Meet the Hygienists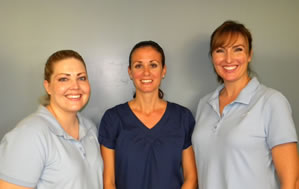 Jenni has been a dental hygienist for 20 years, and has been with Dr. Crowley for five years. She was blessed to welcome her first child, a beautiful baby girl, in March of 2011. Jenni's extensive periodontal expertise provides our patients with the best quality dental cleanings possible.
Betsy has been a dental hygienist for four years, but has worked for Dr. Crowley for eight years. She has is very busy taking care of her two small children but loves every minute of it. She is very knowledgeable and her thorough yet gentle touch is a great fit for our team.
Heather has been with the team for four years, has 13 years of experience in the dental hygiene field, and is a great addition to our staff with her knowledge and dedication to serving our patients. She was married in August of 2011 and enjoys the married life.